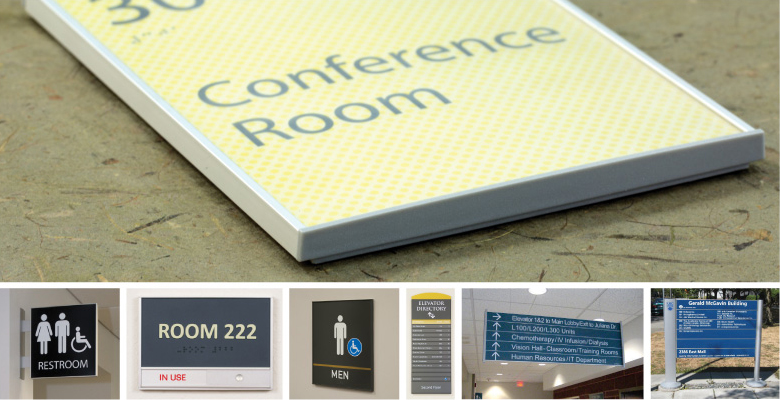 Our Venus system is the pioneer of flat architectural sign systems.
Versatility is its greatest advantage. The Venus system encompasses modern design and acute functionality. The Venus system is compatible with every architectural style and built environment and is easy to assemble and install onto any surface.

Choose a sign type, application, and size. Click on any sign type below and then choose the spec sheet you want to download.
SIGN TYPES
All our sign types are available in the Venus system, from room ID to pylons, including single-sided, double-sided and triangular.
ADA and Braille options
ADA and Braille can be featured on every sign from Mirtec's Venus system
Design
Flat design with clean, modern lines
Newest and slimmest system
Sleek floating design, with minimal sign frame visibility
Lightweight
Frameless options also available
Smart
Designed with a sophisticated convex curve of 3º which holds the insert and the cover securely in place.
Larger signs (such as directories)
magnets integrated on the back, ensuring flat, sleek lines.
Accents (patented)
Compatible with all of Mirtec's standard aluminum accents in any position along the frame. Accent finishes available in a variety of colors and textures; design elements for Venus signs can be anodized, powder coated or painted.
Materials
End caps – Anodized Aluminum or ABS plastic (up to 222mm/8.74″)
Frame / Body – Anodized Aluminum extrusions
Interior /exterior
The Venus system includes cost-effective solutions for both interior and exterior needs which makes the Wayfinding system consistent and clear throughout the project.
Industry sectors
Healthcare facilities, universities, museums, corporate buildings, financial facilities, retail businesses, libraries and more.
Adaptable
It's easy to change your inserts with a small suction cup.